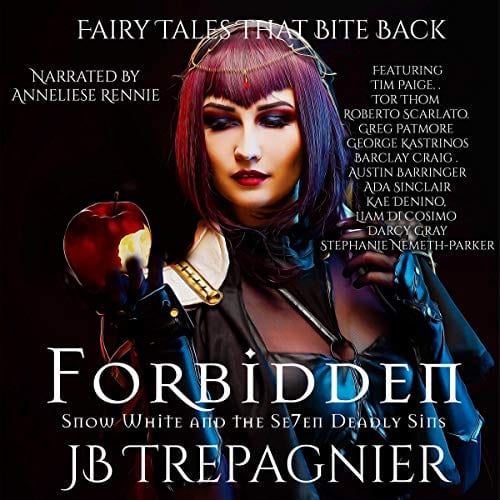 Wait … Snow White and the WHAT?!!
This ain't Disney, folks, better send the kids to bed. Forbidden: Snow White and The Seven Deadly Sins manages to mash-up Classic Fairy Tales, Voodoo Queens, Zombies, Shape Shifters, and The Seven Deadly Sins, who just happen to run a BDSM Club – by the way, I voice 'Salem', aka Sloth, the brains of the outfit.
With a crazy-mad story line, all-star cast of narrators and seriously steamy reverse-harem action with 'Snow and The Sins'  there's something for everyone!
She's used to demons and voodoo, what she was not expecting was for life to become a fairy tale, complete with her own wicked Stepmother.
Her awful stepmother is the Voodoo Queen of New Orleans.  She's always hated her stepdaughter for being a succubus.  It just got a hundred times worse, after her father died mysteriously.
Snow inherits the family company, but, can't remove her evil stepmother because she's made the entire board her zombies. After another board meeting goes against her, Snow decides to let off a little steam with an intern from accounting…how was she supposed to know he was the Evil Stepmother's pet?  Now, the Evil Stepmother is out for blood.
Injured and on the run, 'Snow' finds sanctuary at a local BDSM Club, run by 'you know who' and plots her revenge.  An epic battle between good and evil is brewing, but, who will come out on top?
Forbidden is a dark, adult re-telling of Snow White. It contains scenes of consensual BDSM and one evil stepmother.  You have been warned…
©2020 JP Trepagnier (P)2020 JP Trepagnie