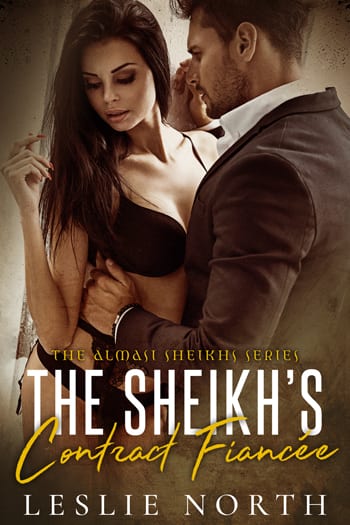 Book one of USA Today best-selling author Leslie North's Almasi Sheik's Series, The Sheik's Contract Fiance, is published on Audible today!

She's expecting a simple business deal, but he's expecting much more….

Annabelle works tirelessly for her father's mining company, despite their rocky relationship. So when he asks her to travel to the Middle East to complete an important business merger, Annabelle sees an opportunity. It's her chance to prove her worth, but the culture clash proves difficult for the strong-minded American woman. She's supposed to work closely with the son of the oil company's CEO, but Annabelle's not sure what to make of Imaad. He may be gorgeous, but she refuses to be cowed by his good looks or his old-fashioned ways.

Sheikh Imaad is ruthless in his business dealings for the family oil company, but standing up to his traditional father is not as simple. When he learns his father's full intentions – that the business arrangements include an arranged marriage to the American executive, Imaad wants to refuse. His intended bride is both beautiful and brash, but Imaad has a plan. If he can convince Annabelle to go along with the fake marriage, they might both get what they truly want. Sounds simple, but Imaad soon realizes it won't be easy to tame a Western woman.
©2017 Relay Publishing (P)2018 Relay Publishing

You can download the book on Audible, HERE